Norwegian Air experience to Edinburgh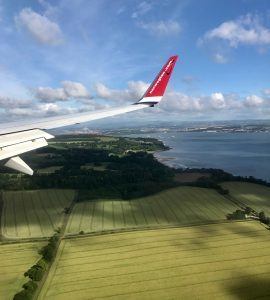 Given a choice to fly economy to the U.K or not go at all, I am going! My experience with flying with Norwegian Air to Edinburgh. Tips on how we kept the cost down and coach seating more comfortable on our long flight.
When the email from Norwegian popped up: fares as little as $159.00 to Barcelona; I considered going, my last experience with was with my good friend Michelle and we loved it. The lower fares are typically for specific days. Here we go, tips on keeping the cost down and coach seating comfortable. The first tip; if your schedule is flexible, it's
I remember being in Laguna beach when Michelle text me: Want to go to Europe? I can get us a flight for $99.00. I said yes so fast, my response scared me. Timing was perfect; I was already going to Providence, RI for work. This trip is fate! – the new motto, living without fear.
We purchased the meal and had one checked luggage the $99.00 flight became $169.00. My preference would be to sit towards the front of the plane, however.. sitting in the back of the aircraft has advantages. Second Tip; When you choose seats…consider a back row. Heres why.
The likelihood of open seating is higher in the back, either the middle seat is open, or an entire row will be available. We obtained a row of our own, however… must be quick about this, the experienced travelers will stake their claim. Caution: the seats are not meant to be comfortable while laying down.. not to worry. Third tip; I managed to get some sleep by wedging the blanket on the belt buckles. I Purchase a neck pillow- if you forget they are about $20.00 at the airport.
All 5'4 of my legs fits into the seat just fine.. with a little leg room for the vertically blessed not to feel cramped. Rows are three across on both sides. Entertainment was good for kids; the meal looked decent. I was not hungry and passed my meal to someone else. Fourth Tip; Save money by eating before arriving at the airport or purchase an apple or small snack at the airport store. Fifth tip; I bought a charger for about $100.00, this will help keep electronics charged for the flight.
With the 7 hour time difference, we arrived in Edinburgh in the early morning, just in time to change clothes and head out to explore. Overall, the $169.00 was a steal- when we are blessed to explore the U.K. Last Tip; To take advantage of this deal, you may need to fly somewhere other than your home state – check out Southwest Air deals too. Crunch the numbers before you book, for me it was still cheaper to fly to another airport then to the U.K rather than flying from Arizona.
If you are blessed to take a girl trip as I was, it will change your life; I could not have asked for a better travel buddy than my friend Michelle.